Fandanguillo by Joaquín Turina (1882-1949)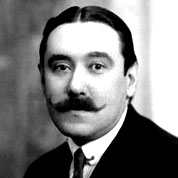 Joaquín Turina was a Spanish composer of classical music. Turina was born in Seville but his origins were in northern Italy (between Verona, Brescia and Mantova). Joaquín Turina helped to promote the national character of 20th-century Spanish music.




Notes
20th century. Flamenco. To Andres Segovia. Spain. 230 measures. 3/4 time signature. 14 pages. Arr. Andres Segovia.
Guitar Demo (Giulia Ballaré)
Guitar Pro Playthrough


In 1923, Turina finished Sevillana (Fantasia)—his first work for the classical guitar based on fiery Sevillanas, or the folk dances that originated in Sevilla, the very center of Andalusia, where the composer was born. The piece begins and ends with strummed chords, emphasizing the swiftness of these dance movements, while the middle section is filled with lyrical motifs to reveal the poetic harmony of the genre. In the same year, Segovia himself premiered Sevillana at the Sociedad de Cultura Musical in Madrid, and his contribution to the composition process was noted by Turina in the manuscript with the words, "Al maravilloso guitarrista Andrés Segovia con admiración y cariño".