The Magic Box by Francis Bebey (1929-2001)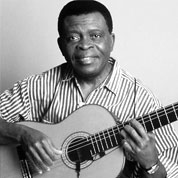 Francis Bebey (1929-2001) was a Cameroonian-born writer, guitarist, composer, and one of the best-known singer-songwriters of Africa. He is sometimes called the father of world music. Highly experimental, Beby often incorporated Latin American, Western, and African sounds into his music.




Notes
20th century. World Music. 79 measures. 4/4 time signature. 4 pages. Key of A Minor. Arr. John Williams. The note pdf has mistakes and i added fingering and several changes based on Yin Wai video (See below).
Guitar Demo (Yin Wai)
Guitar Pro Playthrough