Prelude 8 in A Major– Francisco Tarrega (1852-1909)
Exercise pim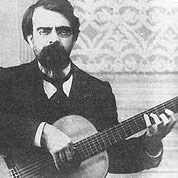 Tárrega is considered to have laid the foundations for 20th century classical guitar and for increasing interest in the guitar as a recital instrument. Tárrega preferred small intimate performances over the concert stage. Some believe this was because he played without the nails needed for volume. Others say this was related to his childhood trauma.




Notes
A handful of chords to remember and a good practice of pim. Part of Tarrega's genius was his sophisticated and innovative approach to right hand fingering blending melody and accompaniment throughout the fingerboard, thus bring out the full range of tone colors and dynamic possibilities of the guitar Take this short prelude for example, tarrega's notes span the neck up to the 13th fret.
This song is more demanding on the left hand (chords). The right plays (pim) all the way. Prelude in A Major is played only once. 8 bars in total. Although Short in length, there are a 28 chords to play. There's a repeat of the first chord (A), other than that the song is a series of arpeggio progression. The notes should be keep at constant tempo in triplet form and with equal loudness and duration. Yet another Tarrega pieces that uses the whole neck. Although there are only 2 barre chords, be careful landing the other 26 chords. Each note should have equal loudness and must be played at a constant tempo-no matter how fast or slow.
Guitar Pro Demo