Minuet in D Minor (Anh132) by Johann Sebastian Bach (1685-1750)
Grade 3 Intermediate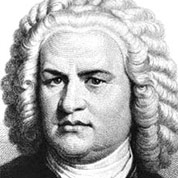 Johann Sebastian Bach was a German composer, organist, harpsichordist, violist, and violinist whose sacred and secular works for choir, orchestra, and solo instruments drew together the strands of the Baroque period and brought it to its ultimate maturity.



Notes
This minuet is meant for the harpsichord and contains both the charm and the emotional depth characteristic of J.S.Bach. The Notebook for Anna Magdalena is a collection of work Johann Sebastian Bach given to his second wife Anna Magdalena. This notebook is a compilation of music by both Bach and other composers of the era. This notebook provides a nearly unparalleled glimpse into the domestic music of the 18th century and the musical tastes of the Bach family.
Minuet in D Minor is played AABB. 2 Parts. each part twice. Each part has 2 endings. If you are confident with Barre Chords, this song offers a new Barre Challenges.The closure of the song (Bar 14 onwards) required a series of 4 barre chords producing 2 voices repeating in a counterpoint structure. Bach's trademark.
* Bar [3] Hinge Chord. Flatten your finger at note C to barre.
** Bar [13] Hold Barre chord's (2nd fret) last note (C# AND F#) as long as possible.
Since it's a dance song. Play at moderate tempo and make it jumpy and lively. You need to be able to hold a barre chord to play this song. I suggest trying "Chorale" by Bach is you are a absolute beginner. Check my previous articles.