Etude in C (Opus60 No1) by Matteo Carcassi (1792-1853)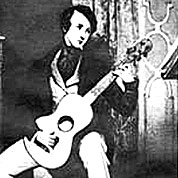 Matteo Carcassi was a famous Italian guitarist and composer. Carcassi began with the piano, but learned guitar when still a child. He quickly gained a reputation as a virtuoso concert guitarist. Carcassi wrote a method for guitar (op. 59) that remains valuable, relevant and interesting, blending technical skills and brilliant romantic music.




Notes
This is the first study of Carcassi's famous "25 Progressive Melodic Studies" for the guitar. Study in C is a good practice with scale. This song will help you improve your scale runs and is more challenging on the left hand. besides scales, Opus60 No1 has question and answer, and chord (pima) arpeggios giving the player a good Left hand workout.
This song is played once straight through no repeats. 42 bars. Opus 60 No1 is an interesting and melodic piece in the Key of C (4/4 Time). Fingering is important and try to keep tempo constant. Suspend the root or first note of each bar to make the song sound fuller. You can get a good education of major scale learning this piece. Beware of the chord arpeggios at the end with pima. landing those chords in time may not be easy if you set the tempo too fast in the beginning.
Guitar Demo (Edson Lopes)
Guitar Pro Playthrough