Mrs Winter's Jump by John Dowland (1563-1626)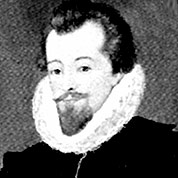 John Dowland was an English Renaissance composer, lutenist, and singer. He is best known today for his melancholy songs such as "Come, heavy sleep", "Come again", "Flow my tears", "I saw my Lady weepe" and "In darkness let me dwell", but his instrumental music has undergone a major revival, and with the 20th century's early music revival, has been a continuing source of repertoire for lutenists and classical guitarists.


16 Bars. Dotted Rythm. 1 Barre Chord. Repeat Both Parts. Key of A. 6/8 time signature. Easy Piece. Jig
Many Elizabethan lute pieces bear the names of the persons of nobility to whom they were dedicated (in this case, one Jane Winter). Like Tarleton's Riserrectione, this piece is also a jig. The tricky rhythms, especially in measures 4-8, should be approacehd with particular care. This tune sounds best at a slightly tempo, with a not too heavy touch.