Garota De Ipanema by Antonio Carlos Jobim (1927-1994)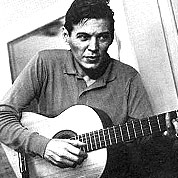 Antonio Carlos, also known as Tom Jobim was a Brazilian songwriter, composer, arranger, singer, and pianist/guitarist. He was a primary force behind the creation of the bossa nova style, and his songs have been performed by many singers and instrumentalists within Brazil and internationally.


Notes
"The Girl from Ipanema" ("Garota de Ipanema") is a well-known bossa nova song, a worldwide hit in the mid-1960s that won a Grammy for Record of the Year in 1965. It was written in 1962, with music by Antonio Carlos Jobim and Portuguese lyrics by Vinicius de Moraes
Bossa Nova. 42 Measures. 3 Pages. Time Signature 2/4. Key of F.