BWV 988 Goldberg Variations 18 by Johann Sebastian Bach (1685-1750)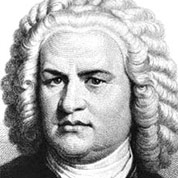 Johann Sebastian Bach was a German composer, organist, harpsichordist, violist, and violinist whose sacred and secular works for choir, orchestra, and solo instruments drew together the strands of the Baroque period and brought it to its ultimate maturity.



Notes
Baroque Era. Solo Guitar. Drop D tuning. 2/2 time signature. Key of G major. 3 pages 31 bars.
This is a canon at the sixth in 2/2 time. The canonic interplay in the upper voices features many suspensions. Commenting on the structure of the canons of the Goldberg Variations, Glenn Gould cited this variation as the extreme example of "deliberate duality of motivic emphasis […] the canonic voices are called upon to sustain the passacaille role which is capriciously abandoned by the bass." Nicholas Kenyon calls Variation 18 "an imperious, totally confident movement which must be among the most supremely logical pieces of music ever written, with the strict imitation to the half-bar providing ideal impetus and a sense of climax."