Sleep of the little doll (El Sueño De La Muñequita) by Agustin Barrios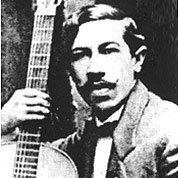 Barrios's compositions can be divided into three basic categories: folkloric, imitative and religious. Barrios paid tribute to the music and people of his native land by composing pieces modeled after folk songs from South America and Central America. Imitating the compositional style and techniques of the Baroque and Romantic periods was another side to his craftsmanship.



Notes
This sleep of the little doll is a waltz in triple meter with harder barred chords at the beginning and artificial harmonics at the end. The latter are octave harmonics played higher from the 12 frets onwards giving the bass notes a bell like effect. Barrios is from Paraguay and wrote many challenging pieces. I like barrios sound and music vocabulary not to mention his amazing prowess on the guitar. i certainly need more practice to post any more of his songs.
Bar[16] Hard chord for the left hand. Don't try to land all fingers at once. Instead, land your first and middle finger first.
Bar[22] Barre Chords at 2nd fret. Because of the wide fingering, the notes on the barre finger are hard to play. Turn your elbow inwards (toward body) and "lean" on the chord to give more weight.
Bar[33]-[55] Artifical harmonics (octaves).
Play as ABBA. First part A once, part B twice, conclude with part A once. 55 unique Bars.
There are several ways to play artificial harmonics (octaves).
1) right index finger press lightly on the string during a down stroke with thumb. Index finger should at a 45 degree angle to the string.
2) bend right thumb (pointing downwards). Touch string with the outside of your thumb (joint to tip) and pluck upwards with the index finger
Right hand harmonics (octave) begins from the 12 fret.
Remember to add +12 on the bass notes. Here are some examples
of left hand position corresponding to the right, producing a bell like harmonic.
Guitar Pro Walkthru