Samba De Una Nota (one note samba) by Antonio Carlos Jobim (1927-1994)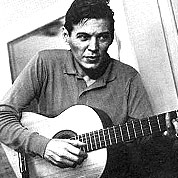 Antonio Carlos, also known as Tom Jobim was a Brazilian songwriter, composer, arranger, singer, and pianist/guitarist. He was a primary force behind the creation of the bossa nova style, and his songs have been performed by many singers and instrumentalists within Brazil and internationally.


Notes
The song title refers to the main melody line, which at first consists of a long series of notes of a single tone played in a bossa nova rhythm. This well-known song first reached a wide audience on the Grammy-winning bossa nova LP Jazz Samba (Getz/Byrd/Jobim), which reached the number one spot on the Billboard 200 in 1963.
Bossa Nova. 88 Measures. 6 Pages. Time Signature 2/4. Key of E/A.