Pedra do Leme by Raphael Rabello (1962-1995)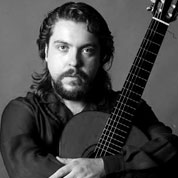 Rafael Baptista Rabello was a virtuoso Brazilian guitarist and composer. During the 1980s and 1990s, he was considered one of the best guitar players in the world and played with many famous artists, such as Tom Jobim, Ney Matogrosso, Paulo Moura, and Paco de Lucia.




Notes
Brazil. Choro. 61 Measures. 4 Pages. Time Signature 2/4. Key of A Minor/D Major. Transcriçâo do disco "Cry, My Guitar".
Guitar Demo (PedroGervason)