Prelude in D Minor by Francisco Tarrega (1852-1909)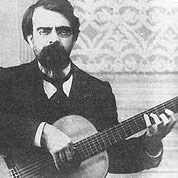 Tárrega is considered to have laid the foundations for 20th century classical guitar and for increasing interest in the guitar as a recital instrument. Tárrega preferred small intimate performances over the concert stage. Some believe this was because he played without the nails needed for volume. Others say this was related to his childhood trauma.



Notes
This is one of many Tarrega's shorter pieces hence it's a prelude to a more lengthier piece. The right hand follows the pim pattern while the left hand positions itself to a handful of chords. This song can be memorized quite easily given it's brevity. There is one chord technique (hinged chord) which is the most difficult part of the song and may need some practice. If you keep the tempo constant, it will be a good starting point. Work your way up to speed and land the chords cleanly.
(pim) Using your thumb(p) and your 2 finger (im), play this song as smoothly as you can. Speed can be developed over time, start slow and play with undulating volume. Bar 4,6,12. Hinged Chord. The pinky is quite a stretch. Try holding your middle finger down and rotate the chord so the pinky can hit that note.