Jesu, Joy of Man's Desiring– Johann Sebastian Bach (1685-1750)
Grade 4 Late Intermediate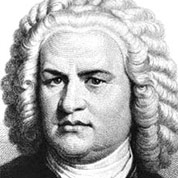 Johann Sebastian Bach was a German composer, organist, harpsichordist, violist, and violinist whose sacred and secular works for choir, orchestra, and solo instruments drew together the strands of the Baroque period and brought it to its ultimate maturity.



Notes
"Jesu, Joy of Man's Desiring" is the English title of the 10th movement of the cantata Herz und Mund und Tat und Leben, BWV 147 composed by Johann Sebastian Bach. Today, it is often performed at wedding ceremonies slowly and reverently, in defiance of the effect suggested by Bach in his original scoring. Whatever the tempo, this chorale movement is one of Bach's most enduring works.
Guitar Pro Playthrough
Left hand plays the major role in "Jesu, Joy of Man's Desiring". There are many rapid succesion of chord changes. Delivery is in triplet time and needs to be quick. Good thing is there are no barred chords. Right hand having the easier task, plays the 3 predominant bass of each bar. Strike with thumb for emphasis. Take Note that Main riff has 3 variations although slight (an extra bass note here and there). Since this song is at a lively tempo, what you won't want to do is to fumble with the chords and lose the tempo. Pay close attention to the left hand fingering to ensure economy of hand movement between the chords.
Tab Taken from Classical For The Guitar by Jerry Synder.