Variations on a Theme from Mozarts The Magic Flute by Fernando Sor (1778-1839)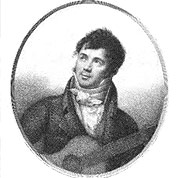 Fernando Sor was a Spanish classical guitarist and composer. He is best known for his guitar compositions, but he also composed music for opera and ballet, earning acclaim for his ballet titled Cendrillon. Sor's works for guitar range from pieces for advanced players, such as Variations on a Theme of Mozart, to beginner pieces.



Notes
Classical Era. 148 Measures. 14 Pages. Time Signature 2/2. Key of E/D minor.
This incendiary piece is Sor's best known and most-performed work. The actual tune that the variation are based on is from the charming duet "Das klinget so herrlich", taken from the finale to the first act of Mozart's opera "The Magic Flute". Be sure to compare the Variations, Opus 9 with Sor's six Airs from Mozart's The Magic Flute, Opus 19. The fourth air is based on the same tune as the Variations; however, the Airs are light salon pieces, while the Variations serve as a vehicle for technical display.
Guitar Demo (Ana Vidovic)
This piece is a good example of 19th century bravura, a term used to describe music of an extroverted character that is meant to dazzle the listener with seemingly impossible feats of technique, when in actual fact is not that difficult to play. Be sure to have fun with this piece. Feel free to push the tempo for effect, especially in the final variation.
Guitar Pro Playthrough