Opus 7 No 5 Mazurka by Frederic Chopin (1810-1849)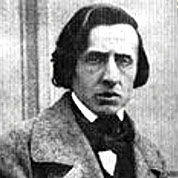 Frédéric François Chopin was a Polish composer, virtuoso pianist, and music teacher of French–Polish parentage. A great masters of Romantic music and has been called "the poet of the piano". He supported himself as a composer and piano teacher, giving few public performances. For most of his life, Chopin suffered from poor health; he died in Paris in 1849 at the age of 39.


Notes
This one in the set is best played very fast and light. Take care to distinguish the triplet rhythm from the dotted rhythmn, and to mute the open third string G on the downbeat of measure eight. Chopin's cryptic instruction "DC senza fine", if taken literally, implies playing the piece over and over without end; indeed, some pianists repeat a second time, for three times through althogether.
Romantic Era. 20 Measures. 2 Pages. Time Signature 3/4. key of D. Vivo. Mazurka. Originally in c Major. Arr Stephen Aron.