Opus 68 No 3 Mazurka by Frederic Chopin (1810-1849)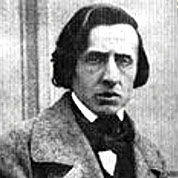 Frédéric François Chopin was a Polish composer, virtuoso pianist, and music teacher of French–Polish parentage. A great masters of Romantic music and has been called "the poet of the piano". He supported himself as a composer and piano teacher, giving few public performances. For most of his life, Chopin suffered from poor health; he died in Paris in 1849 at the age of 39.



Notes
This Mazurka is notable for its short, brillant trio in the piccolo range. Startling and deligthful to hear, it is not unduly difficult in the given configuration. The rest of the arrangement is simple.
Romantic Era. 59 Measures. 5 Pages. Time Signature 3/4. key of a major. allegro ma non troppo. Mazurka. Originally in f major. Arr Stephen Aron.