Romance in E minor (Opus60 No 19) by Matteo Carcassi (1792-1853)
Grade 3– Intermediate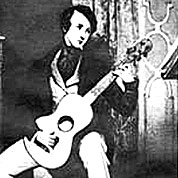 Matteo Carcassi was a famous Italian guitarist and composer. Carcassi began with the piano, but learned guitar when still a child. He quickly gained a reputation as a virtuoso concert guitarist. Carcassi wrote a method for guitar (op. 59) that remains valuable, relevant and interesting, blending technical skills and brilliant romantic music.




Notes
Opus 60 No19 consists of uniform arpeggios with an downstroke with (i). Most songs I am familiar with uses the thumb for a downstroke. Naturally I like the latter and so I've learnt a new right hand pattern playing opus 60 no19.
36 bars. Play them straight through once. Keep speed at moderate tempo and focus on uniformity of rhythm (right hand). Like all uniform plucking songs such as this one or tarrega's study in E minor or Romance de espana, varying the volume during the song will sound better. Listen to the midi for guide. Go slow first. Speed can be developed later. There is a hinge Barre in Measure 5. Flattern you first finger to barre while keeping the rest of the fingers in same position.
Guitar Demo (Edson Lopes)
Guitar Pro Playthrough