Grade 2-Early Intermediate
German Dance (Allegreto in C) (WoO42) by Ludwig van Beethoven (1770-1827)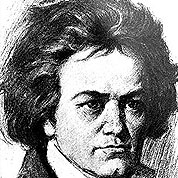 Ludwig van Beethoven was a German composer and pianist. The crucial figure in the transition between the Classical and Romantic eras in Western art music, he remains one of the most famous and influential composers of all time.



Notes
Allemande in G is a piano piece transcribed for the guitar in the key of C for ease of play. An allemande is a french word for a german dance, a popular dance of the Baroque genre originating from the Renaissance period in the 16th century.
The tab is transcribe in the key of C for easy finger arrangement. There are 2 parts with 16 measures to play. Time signature is 3/4. Play Part A once then proceed to play Part B twice (ABB). This song is ideal for beginners as there are no barre chords and there are some pauses in part B. Allegretto means the piece should be played at a moderately quick tempo. In the first and last bar in both parts, hold the notes to fill out the texture. In Part A there's a backbeat played upstroke with the index. If you are a beginner. Understand the right hand mechanics. Basically play one string per finger. Every finger on the right plays the upstroke except the thumb which plays the downstroke.