Opus 31 No 23 Lecon in E Major by Fernando Sor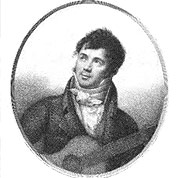 Fernando Sor was a Spanish classical guitarist and composer. He is best known for his guitar compositions, but he also composed music for opera and ballet, earning acclaim for his ballet titled Cendrillon. Sor's works for guitar range from pieces for advanced players, such as Variations on a Theme of Mozart, to beginner pieces.



Notes
Like the Opus 31 No 23 Lecon in E Major this technically undemanding undemanding piece requires a great deal of attention in order to sound musically convincing. The tempo marking Mouvement de priere religieuse (Tempo of a religious prayer) suggests a slow and solemn tempo. Hold on to the notes of each chord for as long as possible. Play with a warm, dark tone color, and maintain a strong forceful sound.
Make sure that the thirds and sixths in measure 21-22 sounds very legato. In measure 23 hold the E on the downbeat through beat two-don't lift the first finger until the beginning of beat three. In measure 9-12, don't let the moving inner voice overpower the melody in the soprano.
36 Measures. 3 Pages. 2/2 Time Signature. Key of E Major. 18 Barre Chords.