Opus 31 No 10 Lecon in D Major by Fernando Sor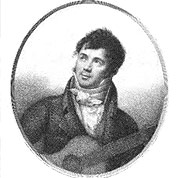 Fernando Sor was a Spanish classical guitarist and composer. He is best known for his guitar compositions, but he also composed music for opera and ballet, earning acclaim for his ballet titled Cendrillon. Sor's works for guitar range from pieces for advanced players, such as Variations on a Theme of Mozart, to beginner pieces.



Notes
The guitar pieces that Sor wrote with didactic intentions exhibit different generic titles. A subtle difference exists between what Sor calls a "lecon" and what he calls an "etude". The lecon (lesson) is usually intended for a beginning student or amateur guitarist, and tends to offer practice for the guitarist in terms of general musicanship and note reading. The etude (study), on the other hand, requires more viruosity and usually isolates a specifc technique. While the lecon would be most at home in a private performance in the salon, the proper venue for the etude is the concert stage.
Even through this Lecon is quite simple technically, it carries a great amount of expressive potential. Make sure this melody sounds sweet and lyrical. Perform with plenty of vibrato everywhere. Sor's tempo designation Cantabile indicates that the melody should convey the lyrical qualities of a vocal line.
Make sure that the thirds and sixths in measure 21-22 sounds very legato. In measure 23 hold the E on the downbeat through beat two-don't lift the first finger until the beginning of beat three. In measure 9-12, don't let the moving inner voice overpower the melody in the soprano.
32 Measures. 2 Pages. 3/4 Time Signature. Key of D Major. 2 Barre Chords. Cantabile.