Opus 2 No1 (Minuet in G) by Fernando Sor (1778-1839)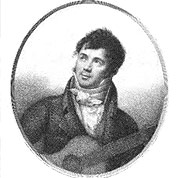 Fernando Sor was a Spanish classical guitarist and composer. He is best known for his guitar compositions, but he also composed music for opera and ballet, earning acclaim for his ballet titled Cendrillon. Sor's works for guitar range from pieces for advanced players, such as Variations on a Theme of Mozart, to beginner pieces.



Notes
Classical Era. 16 Bars. AABB. Repeat both section twice. Key of G. 3/4 Time Signature. Easy Guitar Piece. 2 Barre Chords.