Opus 13 No 3 Divertimento in C Major by Fernando Sor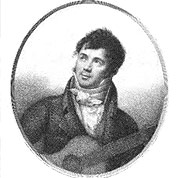 Fernando Sor was a Spanish classical guitarist and composer. He is best known for his guitar compositions, but he also composed music for opera and ballet, earning acclaim for his ballet titled Cendrillon. Sor's works for guitar range from pieces for advanced players, such as Variations on a Theme of Mozart, to beginner pieces.



Notes
This charming piece most certainly wa intended to satiate the musical appetites of the amateur guitarists that inhabited 19th century Parisian salons. The word "divertimento" literally means "amusement," suggesting that both guitarist and listener would find the piece entertaining. This particular Divertimento is in the form of a minuet, a stalely dance in triple meter and moderate tempo. Placing a slight accent on the downbeat will contribute to a dance like feeling. Keep the charcter elegant and graceful, and make the melody sing.
Measure 33 to the end are a reprise of the opening sixteen measures, but with embellishments in the form of diminutions. Make sure the tempo of each section is approximately the same-don't slow down for the fast notes. The middle section, measure 17-32, in the parellel minor, contrasts the outer sections. Here, it would be appropriate to slow down the tempo a bit and play with a drak tone color and a hint of rubato.
3/4 Measures. 5 Pages. Andantino. Time Signature 3/4. Key of C. Triplet. Qunituplets. Sextuplets.