Opus 11 No 5 Minuet in D by Fernando Sor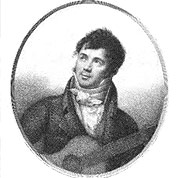 Fernando Sor was a Spanish classical guitarist and composer. He is best known for his guitar compositions, but he also composed music for opera and ballet, earning acclaim for his ballet titled Cendrillon. Sor's works for guitar range from pieces for advanced players, such as Variations on a Theme of Mozart, to beginner pieces.




Notes
Unlike the Minuet from the Grand Sonanta Opus 22, the Minuet Opus 11 No 5 does not exist within the scope of a larger work. This freestanding piece was published as part of a small sets of minuets. The most technically challenging aspect of the Minuet is the alternating bass pattern in the right hand thumb. Particularly tricky examples are in measure 9-12 and 17-20. Such patterns are commonly found in modern bluegrass music (totally unknown to Sor, of course). However, Sor challenges the player by placing the low notes (usually found on the downbeats) on the upbeats. Play the downstemmed 8th notes with the thumb, play all the other notes with the fingers. The coordination required for these passages is easily attainable at a reduced tempo, so start slowly and push the tempo as the fingerings become more comfortable.
3/4 Measures. 4 Pages. Time Signature 3/4. Key of D. Drop D Tuning.
Guitar Demo (Pavel Steidl)
Guitar Pro Playthrough