Minuet in G Minor (Anh115) by Johann Sebastian Bach (1685 – 1750)
Grade 4– Late Intermediate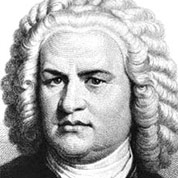 Johann Sebastian Bach was a German composer, organist, harpsichordist, violist, and violinist whose sacred and secular works for choir, orchestra, and solo instruments drew together the strands of the Baroque period and brought it to its ultimate maturity.



Notes
The Notebook for Anna Magdalena is a collection of work Johann Sebastian Bach given to his second wife Anna Magdalena. This notebook is a compilation of music by both Bach and other composers of the era. There is debate over who actually wrote this song. Bach or Chritian Petzold, a german composer and organist. Whichever the case, notebook provides a nearly unparalleled glimpse into the domestic music of the 18th century and the musical tastes of the Bach family.
Counterpoint: the relationship between two or more voices that are independent in contour and rhythm and are harmonically interdependent. There's no special pattern to learn but the right hand must be quick to pluck two melodic lines played simultaneously. Bach is the master of counterpoints and making the instrument speak in multiple voices. This short piece mood is slow and dreary. Hold the suspended bass as long as possible. Be cautious on the finger for the left hand. This song definitely take practise but it will be a great lesson on counterpoint popular during the Baroque period.