Minuet In G (Anh 114) by Johann Sebastian Bach (1685-1750)
Grade 4-Late Intermediate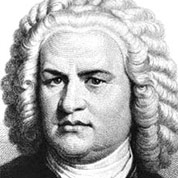 Johann Sebastian Bach was a German composer, organist, harpsichordist, violist, and violinist whose sacred and secular works for choir, orchestra, and solo instruments drew together the strands of the Baroque period and brought it to its ultimate maturity.



Notes
The Notebook for Anna Magdalena is a collection of work Johann Sebastian Bach given to his second wife Anna Magdalena. This notebook is a compilation of music by both Bach and other composers of the era. There is debate over who actually wrote this song. Bach or Christian Petzold, a german composer and organist. Whichever the case, notebook provides a nearly unparalleled glimpse into the domestic music of the 18th century and the musical tastes of the Bach family.
Guitar Pro Playthrough
AABB. Play Part A twice, then Part B twice. 64 bars in total and good news is there are no Barre Chords. Suspend bass at all times and keep the tempo andantino (moderate to fast). I have added a Thumb technique in Bar23. (Thumb curled over top of the neck to play/suspend the F# note on the top string). It is common to use this technique with the electric guitar (narrower neck). You should substitute with the index finger if you are not comfortable with it.
If you enjoy this song, check out my previous article on Bach's Anh115 Minuet in G minor. Unlike this piece which sounds happy and joyous, Anh 115 is in a minor key sounds sounding sad and forlorn.