Fantasia Espanola by (Arr: Gabriel Estarellas) by Valentin R Lopez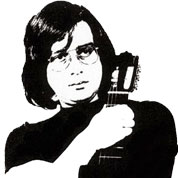 Gabriel Estarellas (1952) is a classical Spanish guitarist, considered to be one of the best performers on his instrument. He has released more than 200 works, and has recorded 17 albums. Estarellas has promoted the works of contemporary composers, with the aim of expanding the classical guitar repertoire, and many of them have dedicated their guitar works to him. In his concerts he regularly performs the works of different authors and styles, thus spreading new repertoires. His clear executions denote a formal logic, capable of bringing the listener closer to the musical essence of the compositions.




Notes
313 Measures. 20 Pages. Time Signature 3/8. Key of A minor. Arranged by Gabriel Estarellas.
Guitar Pro Playthrough