La Bicyclette by Roland Dyens (1955-2016)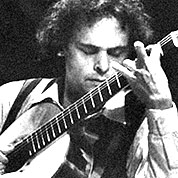 Dyens is a French/Tunisian classical guitarist, composer, and arranger. He studied guitar with the Spanish classical guitarist Alberto Ponce and analysis with Désiré Dondeyne. As a performer, Dyens is known for his extraordinary capacity for improvisation. Essentially unique among classical guitarists. His guitar music draws on many elements of folk music and jazz, and has become popular with players.




Notes
Modern. Time Signature: 4/4. 10 pages. 50 measures. Tuning F G D G B E. Words and Music by Pierre BAROUH and Francis LAI. The bicycle is an album of Yves Montand , released in 1968.
Guitar Demo (Nicolas Lestoquoy )
Guitar Pro Playthrough