Joy To The World (with Angels we have heard on high) by George Friedrich Händel (1685-1759)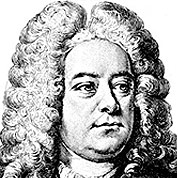 This popular Christmas Carol is thought to be partly based on excerpts of a melody composed by George Frideric Handel (1685-1759) that can be heard three times in his Messiah, namely "Comfort Ye", "Lift Up Your Heads" and "Glory to God". The American composer Lowell Mason then took this particular melody in 1836 and arranged and adapted it, and is the probable composer of the additional music, to make it the song we know today. The words for the carol were written by the English hymn-writer Isaac Watts and were published in his The Psalms of David Imitated in the Language of the New Testament in 1719 under the title "The Messiah's Coming and Kingdom".




Notes
Baroque Era. 56 Measures. 4 Pages. Time Signature 4/4. Key of G/Cm.
This arrangement by Kevin R. Gallagher includes the piece "Angels we have heard on high" in the midsection. "Angels We Have Heard on High" is a Christmas carol to the hymn tune "Gloria" from a traditional French song of unknown origin called Les Anges dans nos campagnes.
Check out an a simpler alternative version of "Joy to the World".
Guitar Demo (Kevin R. Gallagher)
Check out Kevin R. Gallagher's instructional video of this piece.
Guitar Pro Playthrough