Funkomatic I by Marc Lezwijn (1961-)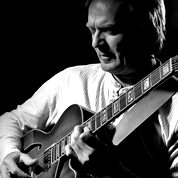 Dutch guitarist and composer. Born in The Haque he was raised in a musical family as his father played the guitar and his mother was a professional singer. He played his own compositions from the age of fifteen. After his studies at the Royal Conservatory in The Hague he made his way through both popular and classical styles and techniques.


Notes
Composing for guitar as well as for symphony orchestra and jazz-combo he became an allround musician. His music for the acoustic solo guitaris a compilation of musical influences through the years.
Modern. Time Signature: 4/4. Drop D Tuning.3 pages. 28 measures. Main Theme as represented on Guitar Moves II album.