Etude in E Minor (Opus 31) – Fernando Sor (1778-1839)
Exercise (pim)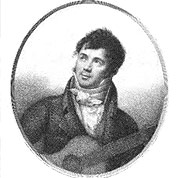 Fernando Sor was a Spanish classical guitarist and composer. He is best known for his guitar compositions, but he also composed music for opera and ballet, earning acclaim for his ballet titled Cendrillon. Sor's works for guitar range from pieces for advanced players, such as Variations on a Theme of Mozart, to beginner pieces.



Notes
This song is a study exercise for students. This piece consists of arpeggios in the pattern of pim. You can get the guitar flowing by playing this pattern on a loop. The thumb plays alternate bass strings on a chord, while the fingers fill in the gaps plucking the melody.
Etude is an emotional piece to me and i tend to like songs with interesting patterns. This pattern pim is easy consisting of only 3 notes. Use pim. Download the tab/sheet music and try it out. Start slow and progressively go faster. You can vary the volume too. Go soft on some parts and loud on others. This gives the song more emotions.