El Abanico (Guajiras) by Paco Pena (1942-)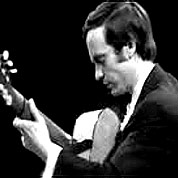 Paco Peña is a Spanish flamenco guitarist. He is regarded as one of the world's foremost traditional Flamenco players. Pena began performing throughout Spain with a government-sponsored folk music and dance program where Peña established himself as a highly-regarded accompanist to Flamenco dance and singing.


Notes
Guajiras are one of a group of flamenco forms that resulted from the rediscovery of folk music in Latin America by the flamenco artists who went there to perform at the turn of the century. These form are called cantes (or songs) and toques (or instrumental pieces) de ida y vuelta (literally 'of going and returning'). They usually have a lighter character than the more ortodox flamenco forms.
Flamenco. 46 Measures. 4 Pages. Time Signature 3/4. Key of A Major. Rasgueado