Curvas (Rumba) by Paco Pena (1942-)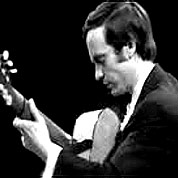 Paco Peña is a Spanish flamenco guitarist. He is regarded as one of the world's foremost traditional Flamenco players. Pena began performing throughout Spain with a government-sponsored folk music and dance program where Peña established himself as a highly-regarded accompanist to Flamenco dance and singing.


Notes
Rumba is another example of the cantes or torques de ida y vuelta (see "el abanico"). It is perhaps the most modern development in flamenco, and has become very popular in the last few decades.
Flamenco. 50 Measures. 3 Pages. Time Signature 3/4. Key of E Minor. Rasgueado