Chamané by Yamandu Costa (1980-)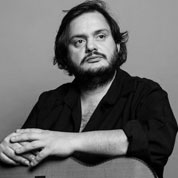 Costa began to study guitar at age seven with his father, Algacir Costa, leader of the group Os Fronteiriços (The Frontiersmen). Costa's diverse styles include chorinho, bossa nova, milonga, tango, samba and chamamé. He studied the music of other Brazilians, such as Baden Powell de Aquino, Tom Jobim and Raphael Rabello. Yamandu is a winner of Latin Grammy Award for Best Instrumental Album: "Toquinho e Yamandu Costa". Yamandu Costa plays a 7 string guitar.




Notes
20th century. Latin. 7 strings. 7th tuned to C. Key of C. 6/8 Time Signature. 6 pages. 85 Measures.
Guitar Demo (Marcos Kaiser)
Guitar Pro Playthrough