Corcovado by Antonio Carlos Jobim (1927-1994)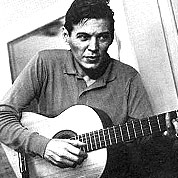 Antonio Carlos, also known as Tom Jobim was a Brazilian songwriter, composer, arranger, singer, and pianist/guitarist. He was a primary force behind the creation of the bossa nova style, and his songs have been performed by many singers and instrumentalists within Brazil and internationally.


Notes
"Corcovado" (known in English as "Quiet Nights of Quiet Stars") is a bossa nova song written by Antonio Carlos Jobim. The English lyrics were written by Gene Lees. The US chart version was sung by Andy Williams. The title refers to the Corcovado mountain in Rio de Janeiro.
Bossa Nova. 76 Measures. 6 Pages. Time Signature 2/2. Key of Am.