Caprice in D Minor by Matteo Carcassi (1792 – 1853)
Grade 3 Intermediate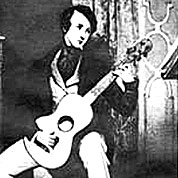 Matteo Carcassi was a famous Italian guitarist and composer. Carcassi began with the piano, but learned guitar when still a child. He quickly gained a reputation as a virtuoso concert guitarist. Carcassi wrote a method for guitar (op. 59) that remains valuable, relevant and interesting, blending technical skills and brilliant romantic music.



Notes
Carcassi manages to blend technical skills and brilliant romantic music. This pattern is identical to Giuliani's "Allergo" (see previous post) ( p i m i a i m i ) right hand arpeggios.
Caprice is fairly easy to play and is a good work out for your fingers. This song seems longer than it actually is. 31 Bars of which 11 bars is Dm. Actual song is slower. I took the liberty and sped it up. Note the patten ( pimiaimi ) is identical to Mauro Giuliani's "Allegro Etude". Go slow then progressively faster. Keep tempo constant at all times.