Grade 2 Early Intermediate
Allegro Etude by Mauro Giuseppe Giuliani (1781 – 1829)
Exercise: ( p i m i a i m i )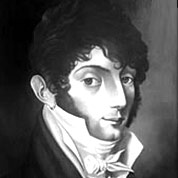 Mauro Giuliani was an italian guitarist and composer, and is considered by many to be one of the leading guitarist virtuosos of the early nineteenth century. He was a prolific composer, writing over 150 pieces for the guitar, as well as many chamber compositions for the violin, voice, flute, piano, and chamber orchestra.



Notes
"Allegro Etude" is one of Giuliani's fine example of his Right Hand Arpeggio Studies. Mauro Giuliani was a gifted guitarist and composer of an Italian heritage. The song title "Allegro Etude" means "Rapid Study". In this case, fast right hand plucking of arpeggios. pimiaimi.
This song is fairly easy for the left hand as there are no barred chords. Take note of the pivot fingers when doing the bass fills. Go slow then progressively faster. Keep tempo constant at all times.