BWV 988 Goldberg Variations by Johann Sebastian Bach (1685-1750)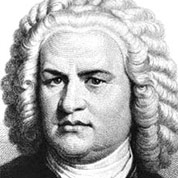 Johann Sebastian Bach was a German composer, organist, harpsichordist, violist, and violinist whose sacred and secular works for choir, orchestra, and solo instruments drew together the strands of the Baroque period and brought it to its ultimate maturity.



Notes
Baroque Era. 2 Guitars. Odd tuning. C, G, D, A, E, B. 3/4 time signature. Key of G major. 3 pages 32 bars. Zip File of 2 PDFs.
This sprightly variation contrasts markedly with the slow, contemplative mood of the theme. The rhythm in the right hand forces the emphasis on the second beat, giving rise to syncopation from bars 1 to 7. Hands cross at bar 13 from the upper register to the lower, bringing back this syncopation for another two bars. In the first two bars of the B part, the rhythm mirrors that of the beginning of the A part, but after this a different idea is introduced.
Piano Sheet played by Glenn Gould (1981 Version)