Franz Schubert (1797-1828) Germany
Ave Maria (Jose De Azpiazu) arranged by Azpiazu, Jose de (1912-1986)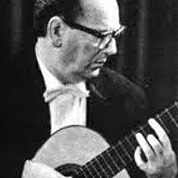 Jose de Azpiazu, a Spanish (Basque) composer, arranger and guitarist, Azpiazu started to play the guitar under ther guidance of his uncle at the age of 13. Azpiazu career began at the age of 24, after a debute in Radio Bilbio. In addition to his pedadgogic work Azpiazu is known as an arranger and composer of guitar music.



Notes
Ave Maria (Opus 52 No 6). 34 Measures. 8 Pages. Time Signature 6/4. Tremolo. Key of G.
Guitar Demo
"Ave Maria," better known as "Hail Mary" in Latin or "Ellens Gesang III" in German, not to be confused with "Ave Maria" by Gounod and Bach, is an 1825 song by Austrian maestro Franz Schubert. The text itself is a derivation from Sir Walter Scott's famous poem, "The Lady of the Lake". The song's words have inspired its usage with the Roman Catholic prayer, which bears the same name.
More Tremolo?
Guitar Pro Playthrough
Other Versions Available on…
Ave Maria (Arpeggio) Theme. Easy. Transcribed by Mark Phillips
Ave Maria (Bach Gounod) Theme. Easy. Transcribed by Mark Phillips
Ave Maria (Bach Gounod) Transcribed by Francisco Tarrega