Andante in C by Fernando Sor (1778-1839)
Grade 2– Early Intermediate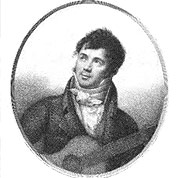 Fernando Sor was a Spanish classical guitarist and composer. He is best known for his guitar compositions, but he also composed music for opera and ballet, earning acclaim for his ballet titled Cendrillon. Sor's works for guitar range from pieces for advanced players, such as Variations on a Theme of Mozart, to beginner pieces.



Notes
Andante. Moderately slow or walking pace. 32 Bars. No barre Chords. Bass Note suspensions in most bars. There are 2 parts. Play each part twice in this order AABB. This piece should be played slowly in an even tempo. Notes are sparse in between so use the suspended notes to fill the void.