Alma Llanera by Pedro Elias Gutierrez (1870-1954)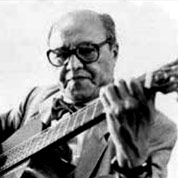 "Alma Llanera" ("Soul of the Plains") is a Venezuelan song, a joropo, created by Venezuelan musicians Pedro Elías Gutiérrez (composer) and Rafael Bolívar Coronado (lyricist). Alma Llanera has since come to be considered as Venezuela's unofficial second national anthem. The title refers to the Llaneros, the herders of Venezuela whose culture is part of the country popular imagery. The llanero culture is at the root of the joropo, firstly as a dance and then as a musical genre. Today, Alma Llanera is considered as a Latin America landmark song.




Notes
Standard Tuning. Allegro. Time Signature 3/4. Key of C Major. 9 pages. 166 measures. Arranged by Alirio Diaz.
Guitar Demo (Alirio Diaz)
Guitar Pro Playthrough