Zapateado by Celedonio Romero (1913-1996)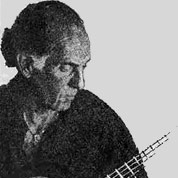 Celedonio Romero was a guitarist, composer and poet, perhaps best known as the founder of The Romeros guitar quartet. Born in Cienfuegos, Cuba, and studied classical guitar at the Conservatory of Málaga and at the Madrid Royal Conservatory, where he was taught by Joaquín Turina. He made his concert debut at the age of 22.



Notes
20th century. Time Signature 6/8. 6 pages. 67 measures. Key of E. Guitar Solo Piece. Taken from Tango y Zapteado.