Song Without Words by John Towner Williams (1930-1993)
Transcribe by John Christopher Williams (1941-)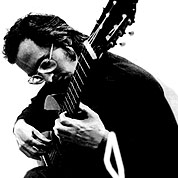 John Christopher Williams is an Australian classical guitarist, and a long-term resident of the United Kingdom. In 1973, he shared a Grammy Award win in the 'Best Chamber Music Performance' category with Julian Bream for Julian and John.




Notes
20th century. Key of D/D minor. Time Signature Varies. 4 pages. 57 bars.
Guitar Demo ( JacarandaMusic )
About the PDF (Notes)
The tempo marked for this (quarter note = 80) is only an approximate guide. I like it to be very flexible, sometimes almost like speaking and sometimes with an "in tempo" feel – for example at letters D and E. In general I like all notes to ring on naturally. As mentioned in the editorial section I want the pages to look as clear as possible, so I have not been pedantic about rests, etc. The rests which are put in are either for the musical sense or because it looks better – they should be ignored! – John Williams.
Guitar Pro Playthrough