Hello Francis by John Towner Williams (1930-1993)
Transcribe by John Christopher Williams (1941-)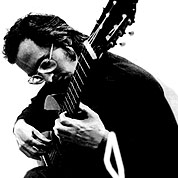 John Christopher Williams is an Australian classical guitarist, and a long-term resident of the United Kingdom. In 1973, he shared a Grammy Award win in the 'Best Chamber Music Performance' category with Julian Bream for Julian and John.




Notes
20th century. Key of E. Time Signature Varies. 5 pages. 90 bars.
Guitar Demo (Samantha Muir )
"Hello Francis" is a tribute to Francis Bebey – singer, composer, guitarist, musicologist, writer and dear friend who was born in Douala, Cameroon in 1929 and died in Paris, France in 2001. The piece is based on the Makossa, a popular dance rhythm from Cameroon often used by Francis, and includes a quote from his piece The Magic Box and a hidden bit of J.S. Bach. – John Williams
Guitar Pro Playthrough