Whirler of The Dance I Prelude by Carlos Rafael Rivera (1970-)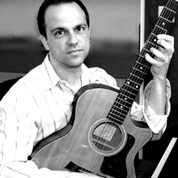 Of Cuban-Guatemalan descent, Carlos Rafael Rivera has established a name for himself as a composer with the unique ability of incorporating a large diversity of musical influences into his captivating compositions, which reflect his multi-cultural upbringing in Washington, DC, Guatemala, Costa Rica, Panama, Miami, and Los Angeles.


Notes
The title for this work was inspied from the name the Greek poet, Hesiod, gave to Terpsichore, one of the nine ancient muses of Greco-Roman religion. The first movement is of fanfare-ish character, and is reminiscent of Spanish folk music. The second movement is of dignified character; a solemn, personal prayer. It is reminiscent of lush, Brazilian usic. The final movement is based on African dance rhythms. By means of tense contrasts between Pizzicato and Ordinario playing, the familiar harmonic world of the first movement returns, bringing the Dance to exhilarating close.
Whirler of the Dance was first premiered by Matt James at the University of Southern California. It is winner of The 1998 ASCAP Foundation/ Morton Gould Young Composer Award, and the 1998 Guitar Foundation of America Set Piece Competition.
Carlos Rafael Rivera's works have been performed in the Unied States ad well as in Canada. Among the performances was the world premiere in 1997 of his Motet for Twelve Singers by the renowned by the Los Angeles Guitar Quartet, and received several awards for his composition. Among those are the 44th Annual BMI Student Composer Award as well as a residency fellowship for the June in Buffalo Music Festival.
20th century. 99 Measures. 8 Pages. Time Signature varies. Prelude. Watch Renowned guitarist Denis Azabagic plays the 1st movement, Whirler of The Dance I Prelude.