While My Guitar Gently Weeps by Laurence Juber (1952-)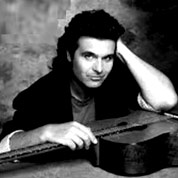 Fusing folk, jazz,and pop styles, two-time Grammy-winner Laurence Juber creates a multifaceted performance that belies the use of only one acoustic guitar. The lead guitarist for Paul McCartney's Wings (with whom he earned a Grammy award), Juber is a world-renowned guitar virtuoso, composer and arranger.


Notes
20th century. Fingerstyle. Acoustic. Beatles. George Harrison. 50 Measure. 5 pages. 4/4 Time Signature. Key of A. Tuning. 1=d, 2=a, 6=d.