Vilia by Chet Atkins (1924-2001)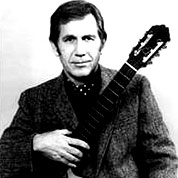 Chester Burton Atkins, known as Chet Atkins, was an American guitarist and record producer who, along with Owen Bradley, created the smoother country music style known as the Nashville sound, which expanded country's appeal to adult pop music fans as well. Among many honors, Atkins received 14 Grammy Awards as well as the Grammy Lifetime Achievement Award,



Notes
20th century. Acoustic. 70 Measures. key of d. 7 Pages. Time Signature 4/4. From the album "at home". Music originally for "The Merry Widow" orchestra by Franz Lehar.
Measure 40: There's a slide from the 1st to 2nd notes of the triplets on strings 1 and 3, with a hammer-on on the 2nd string while doing the slide. It's easier to do than to describe.