Sonata III. Allegro Vivoby Joaquín Turina (1882-1949)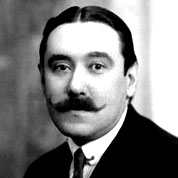 Joaquín Turina was a Spanish composer of classical music. Turina was born in Seville but his origins were in northern Italy (between Verona, Brescia and Mantova). Joaquín Turina helped to promote the national character of 20th-century Spanish music.




Notes
20th century. Flamenco. Spain. Drop D. 163 measures. 3/4 time signature. 6 pages. Key of A minor. Fingering by Andres Segovia
Guitar Demo (Roman Viazovskiy)
Guitar Pro Playthrough


In his fourth guitar piece entitled Sonata, Turina features the classic sonata form in three movements of which the middle section contrasts with the rest of the work. The composition is very reminiscent of the instrumental sonatas written at the end of the Baroque era. It is almost devoid of Spanish flavor, although at the end of the third movement the flamenco aesthetics come to the foreground. Sonata was completed in 1931 and a year later premiered at the Academia de Santa Cecilia by Segovia who praised the work for its tenderness and poetry.