Suite (Pavana alla Ferrarese) by Joan Ambrosio Dalza (fl 1508)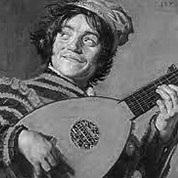 Joan Ambrosio Dalza was an Italian lutenist and composer. Nothing is known about his life. His surviving works comprise the fourth volume of Ottaviano Petrucci's influential series of lute music publications, Intabolatura de lauto libro quarto (Venice, 1508). Dalza's music is, for the most part, comparatively simple and easy to perform.


Notes
Renaissance Era. from Intabolatura de Lauto Libro Quarto. Lute or Vihuela. 3rd string tuned down to F#. Capo 3 fret. 65 Measures. 4 Pages. Time Signature 2/2. Key of A. Andante. No barre chord.