Opus 60 No7 in Am by Matteo Carcassi (1796-1853)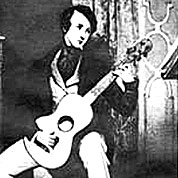 Matteo Carcassi was a famous Italian guitarist and composer. Carcassi began with the piano, but learned guitar when still a child. He quickly gained a reputation as a virtuoso concert guitarist. Carcassi wrote a method for guitar (op. 59) that remains valuable, relevant and interesting, blending technical skills and brilliant romantic music.



Guitar Demo (Edson Lopes)
Guitar Pro Playthrough


Notes
This song is fun and a good practice for both hands. Opus 60 No 7 is the 7th study of Carcassi's 25. To me. This song is easier than Opus 60 No 1 (see my previous article), so this would be a good entry point if you want to learn Carcassi-one of the pioneer of the classical guitar itself.
There are 2 main patterns (pami) and (pimi). When learning this song, it helps to read ahead to get better prepared to interchange between these 2 patterns. There's only 1 Barre Chord in Bar [22]. Play Part 2 twice. The hardest part of the song to me is at Bar [16] and Bar [18] just after the E arpeggio, there is a serie of (mimimi) that needs to be delivered actually and in tempo. (pami) at a faster speed becomes tremolo.