Stream by Tim Reynolds (1957)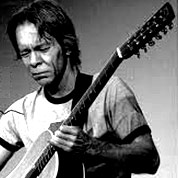 Tim Reynolds (born 15 December 1957 in Wiesbaden, Germany) is a Grammy nominated multi-instrumentalist known as both a solo artist and as the lead guitarist for Dave Matthews Band. One reviewer has declared Reynolds 'an under-rated master'.


Notes
20th century. Fingerstyle. Acoustic. 169 Measures. 18 Pages. Time Signature 4/4. Tuning. Drop D. Key of D.